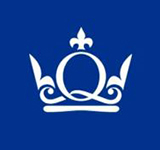 Queen Mary, University of London favorite: 504
Queen Mary, University of London
Address:
United Kingdom | England | London

favorite
apply for it
Student Distribution
Local student:
International student:
Introduction
Queen Mary's roots lie in four historic colleges: Queen Mary College, Westfield College, St Bartholomew's Hospital Medical College and the London Hospital Medical College.The college was first established in 1887 and was admitted to the University of London in 1915.Queen Mary merged with the medical schools of St Bartholomew's and the Royal London hospitals in 1995.Queen Mary, University of London is a member of the Russell Group of leading UK universities, recognition of its excellence in research and teaching. The Group, which includes other top universities such as Oxford, Cambridge and UCL, attracts some of the brightest students from all over the world and almost two-thirds of research funding in the UK. Graduates from Russell Group universities are especially valued by employers, giving them a head start when they apply for jobs.
TIMES country ranking
| 2015 | 2014 | 2013 | 2012 | 2011 | 2010 | 2009 | 2008 | 2007 | 2006 |
| --- | --- | --- | --- | --- | --- | --- | --- | --- | --- |
| 37 | 37 | 38 | - | - | - | - | - | - | - |
QS World ranking
| 2015 | 2014 | 2013 | 2012 | 2011 | 2010 | 2009 | 2008 | 2007 | 2006 |
| --- | --- | --- | --- | --- | --- | --- | --- | --- | --- |
| 107 | - | - | - | - | - | - | - | - | - |
{{scores.count}} comments
Abstract
{{type}}
{{comment.account_id.displayname}}
{{comment.content}}
{{comment.create_at|date:'yyyy/MM/dd'}}

{{comment.like_accounts.length}}
find courses for you
degree level:
qualification type:
subject area: