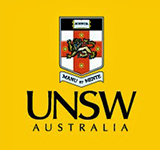 University of New South Wales favorite: 506
University of New South Wales
Address:
Australia | New South Wales | Sydney

favorite
apply for it
Student Distribution
Local student:
International student:
Introduction
The University of New South Wales (UNSW; branded as UNSW Australia) is an Australian public research university located in the suburb of Kensington in Sydney. The university was established in 1949 by the New South Wales government. The main campus is located on a 38-hectare site in the Sydney suburb of Kensington, seven kilometres from the centre of Sydney. The creative arts faculty, UNSW Art & Design, is located in Paddington, UNSW Canberra is located at the Australian Defence Force Academy in Canberra, and sub-campuses are located in the Sydney CBD, the suburbs of Randwick and Coogee, research stations are located throughout the state of New South Wales. UNSW is a founding member of the Group of Eight, a coalition of Australian research-intensive universities, and of Universitas 21, a leading global network of research universities. It has international exchange and research partnerships with over 200 universities around the world. It was ranked among the top 50 universities in the world, according to the 2015 QS World University Rankings, and among the top 4 in Australia. UNSW graduates hold more chief executive positions of ASX 200 listed companies than those of any other university in Australia.
QS World ranking
| 2018 | 2017 | 2016 | 2015 | 2014 | 2013 | 2012 | 2011 | 2010 |
| --- | --- | --- | --- | --- | --- | --- | --- | --- |
| - | - | - | - | - | - | - | - | - |
{{scores.count}} comments
Abstract
{{type}}
{{comment.account_id.displayname}}
{{comment.content}}
{{comment.create_at|date:'yyyy/MM/dd'}}

{{comment.like_accounts.length}}
find courses for you
degree level:
qualification type:
subject area: