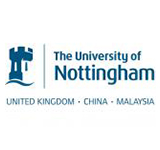 Nottingham, University of favorite: 503
The University of Nottingham
Address:
United Kingdom | England | Nottingham

favorite
apply for it
Student Distribution
Local student:
International student:
Introduction
Nottingham's first civic college was opened in the city centre in 1881, four years after the foundation stone was laid by former Prime Minister, W E Gladstone. After the First World War, the college outgrew its original building. A generous gift by Sir Jesse Boot, of 35 acres of land at Highfields, presented the solution and in 1928 the College moved to what is now the main campus, University Park. In 1948, the college was awarded the Royal Charter and became The University of Nottingham, now able to award degrees in its own name. During this period the School of Agriculture was established when the Midland College of Agriculture at Sutton Bonington merged with the University.
TIMES country ranking
| 2015 | 2014 | 2013 | 2012 | 2011 | 2010 | 2009 | 2008 | 2007 | 2006 |
| --- | --- | --- | --- | --- | --- | --- | --- | --- | --- |
| 22 | 23 | 20 | - | - | - | - | - | - | - |
QS World ranking
| 2015 | 2014 | 2013 | 2012 | 2011 | 2010 | 2009 | 2008 | 2007 | 2006 |
| --- | --- | --- | --- | --- | --- | --- | --- | --- | --- |
| 171 | - | - | - | - | - | - | - | - | - |
{{scores.count}} comments
Abstract
{{type}}
{{comment.account_id.displayname}}
{{comment.content}}
{{comment.create_at|date:'yyyy/MM/dd'}}

{{comment.like_accounts.length}}
find courses for you
degree level:
qualification type:
subject area: